Do you know that you can remodel the overall aesthetics of your bathroom by adding/upgrading just a small element? What do you notice the most while entering in a restroom? What does it feel to look into a crystal clear mirror that makes you feel fresh and gives you a pleasant vibe about this space?
Whether you have a traditional, modern bathroom, or a commercial bathroom, there is always a type of mirror to suit it.
A good and accurately placed washroom mirror can change the overall aesthetics of this space. The mirror is a small yet notable accessory that must be installed according to the shape and size of the bathroom.
From wall-mounted mirror to pivot mirror, from lighted mirror to cabinet mirror, you will find every type of mirror enhancing and refreshing the look of your bathroom.
Depending upon the space, you can go with a round, oval, or rectangle-shaped mirror or you can even install lighting bulbs surrounding it. If you want to add a little oomph to this space, go with the unique silhouettes and add a little fun element.
This blog post is all about helping you choose the best home or commercial bathroom mirror, depending upon your requirement.
These popular commercial wall mirrors are top on-trend and have gathered a lot of appreciation for the shape and fun they add to this space.
Hauschen LED Anti Fog Bathroom Mirror
The reason behind the Hauschen LED mirror being at the top is the adjustable lighting settings which can be customized accordingly. A good mirror probably does not provide a pleasant experience if not paired with sufficient lighting.
With this popular LED bathroom mirror, you can even set the brightness tone from the three preset options; 'warm white', 'neutral white', and 'daylight'. With its rectangular dimensions, you can easily mount it at your bathroom's wall with the help of a professional electrician.
The surprising factor about this Lighted mirror is its anti-fog function that easily removes steam and produces a sharp clear image even after a shower. To control its function, there comes a remote control that allows you to control the settings of this defogger.
The silver-coated surface of the mirror ensures to provide you a crystal clear image with the mirror quality to be top-notched.
Umbra Prisma Geometric shaped oval mirror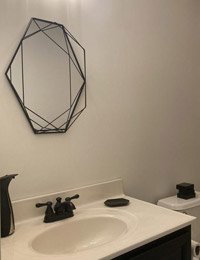 This Prisma Mirror by Umbra is a beautiful piece of mirror art. The three-dimensional frame comes with brass wire to hang it vertically or horizontally without affecting its style or shape. Umbra has designed it to be multifunctional which means you can use it as a jewelry tray to be placed at the tabletop or you can hang clothes or towels over the metallic wires that flare out from the wall.
The beautiful geometric-shaped mirror contemplates every bathroom style and attracts both, artificial and natural light. The reflective surface of this mirror makes any room look bigger by doubling the visual depth.
This Umbra Prisma Mirror is an excellent piece to be used as wall art since it becomes the focal point of the space wherever it is installed. Whether you place it over your bathroom vanities, entryway tables, or dressers, the spaciousness that it provides is matchless.
Kate and Laurel Half moon mirror
The classic and beveled glassless mirror by Kate and Laurel will add spaciousness to your bathroom space. This half-moon mirror is a timeless piece that has a frameless design with sloping edges.
This decorative piece brings in reflective light to your room and makes your space look bigger. Whether you hang it in the entryway or mount it in your bathroom, it always gives a refreshing feel. The mirror has metal keyhole hangers attached with it to mount it anywhere without any trouble. You can install it vertically or horizontally, totally depends upon the space.
For a more pleasant experience, you can hang two mirrors together for a circular mirror display. This frameless bathroom mirror has a very contemporary feel to it that instantly uplifts the mood.
ANDY STAR Round Mirror 30-Inch Size
The simple yet elegant design of the ANDY Star Round mirror can make your bathroom look spacious and beautiful at the same time. The stainless steel frame with brushed metal has a very contemporary style that goes well with both; modern and traditional bathrooms.
To protect the glass from moisture or steam, the mirror surface is protected with 3 layers of waterproof paint. With D-ring hanging clips, you can easily hang this 22 pounds and 30-inch mirror on the wall.
This beautiful round mirror can be used as a part of your bathroom accessories or can be placed as a decorative piece. To enhance your experience, you can also add lights surrounding the mirror.
Hamilton Hills large ornate golden frame mirror
This beautiful mirror work is especially designed to complement the classic style bathrooms. The vintage golden frame mirror is composed of sturdy and durable materials which do not get worn out even under bathroom moisture. This classic piece provides spaciousness and richness to any room and enhances the decorative appeal.
The crystal clear mirror is secured within the rich-patterned frame that ensures its longevity. The frame has royal embellishments with stable backing. This ageless luxurious mirror by Hamilton can be hanged vertically or horizontally with the help of D-ring hanging clips.
So What's Your Pick?
These beautiful bathroom vanity mirrors are ageless and an easy way to remodel bathrooms as well as other spaces. With their details and shapes, no wonder your guests would be impressed within no time.
For those who love the art deco vibes in their restrooms, these mirrors would sure add a touch of style and decency at the same time.
These Bathroom mirror ideas are moisture-resistant and can even stand the high-humidity environment. So grab any of these exquisite pieces for your restrooms and share your experience with us.